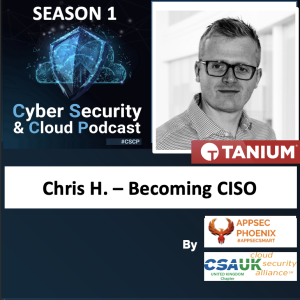 Saturday Jul 24, 2021
CSCP S01E02 - Chris Hodson - Becoming a CISO with the head in the Cloud
CSCP is bringing back season 1 in a newly remastered version
Chris will join us in the new season 3 in recording 
We talk all things Leadership, Risk Compliance with Chris Hodson CISO at Tanium
After 17 years in cybersecurity, as well as talking all things cyber, Chris talks about the route he took to become a CISO and opens up on how to communicate with others in a similar position.
The episode is brought you by AppSec Phoenix Ltd with the Phoenix platform you can make Vulnerability management for software and organization SMART.  Follow the tag #appsecsmart
https://www.securityphoenix.com get a free 30-day licence quoting CSCP https://landing.securityphoenix.com/alpha
Chris is a CISO with 20 years of experience working in technology roles. I build and run security organisations that help companies reduce IT and cybersecurity risk.
Chris served as a trusted advisor to executives and board members, helping them define well-balanced strategies for managing risk and improving business outcomes. I've worked as a CISO, architect, designer, engineer and DPO for market-leading companies in the energy, retail, media, technology and financial services industries.
Cyber Security and Cloud Podcast
#CSCP
#cybermentoringmonday
http://cybercloudpodcast.com

You can listen to this podcast on your favourite player:
Itunes: https://podcasts.apple.com/gb/podcast/the-cyber-security-cloud-podcast-cscp/id1516316463 
Spotify: https://open.spotify.com/show/3fg8AqP4vEi5Im8YKxazUQ
Linkedin: https://www.linkedin.com/company/35703565/admin/

Twitter: https://twitter.com/podcast_cyber